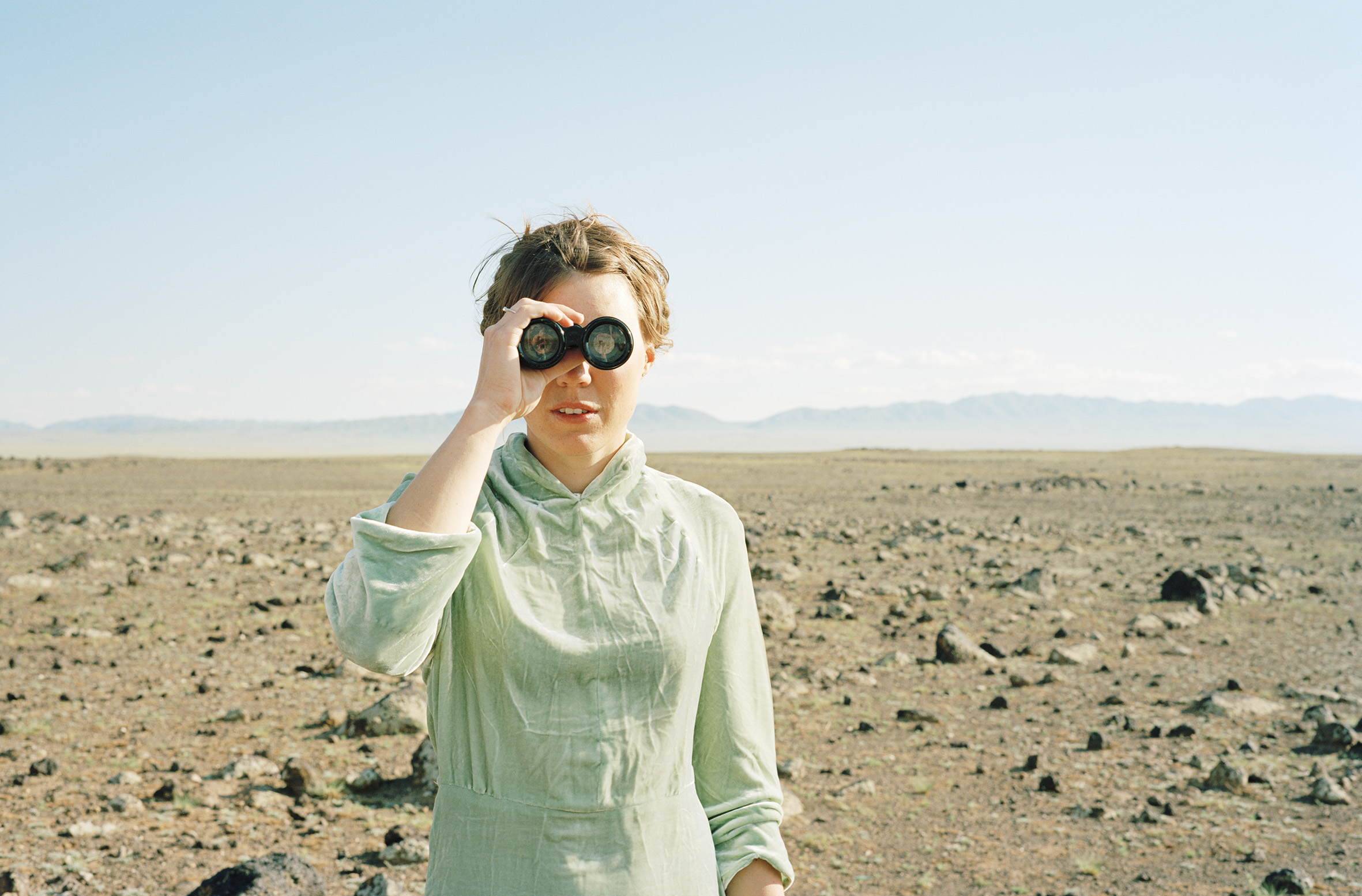 The objective of The Characters is to encapsulate an entire artistic practice. Since 2008 I have, through The Characters, given women a position within landscape while exploring the authenticity of history. On expedition, female explorers are staged in Unknown Territory. Materials have been gathered from before, during and after their journeys, yielding stories and installations with photography in large formats, text panels, and a suitcase for every traveller, together portraying Characters # I – V.
Character #I Aline Victoria Birkeland (1870-1952) The Unknown Adventurer
Aline Victoria Birkeland, geologist and glaciologist, travels in the high Arctic and on Spitsbergen. She makes an important discovery, but due to the times she lives in, she considers it necessary to cover up what she finds. She buries a crate in the mountainside behind Grumant. Many years later, she writes to her granddaughter and challenges her to seek out and unearth the crate, thereby revealing her discovery to the world.
Character # II Tuva Tengel (1901-1985) Letters from Mongolia
Tuva Tengel, desert traveller, author and photographer, travels in the Gobi Desert, Mongolia from 1927 to 1937. Previously, the expedition of Roy Chapman Andrews with his wife Yvette as photographer, had sought the Origin of Man in that desert: Scientist seek man's birthplace – Hopes to Find Garden of Eden in 5 Year Trip. These stories evoked restlessness in Tuva; she wants to see the Gobi Desert herself. She brings her camera and notebook and travels south towards the sun. She enters Unknown Territory.
Character #III Luelle Magdalon Lumiére (1873-1973) The Island Traveller
Luelle Magdalon Lumiére, stereophotographer and poet, is an enterprising and strong woman. She is a traveller among islands, societies and continents. Luelle journeyed to New York, trod the boardwalks of East River along the settlers' neighbourhoods in Brooklyn and beheld the horizon and the people of Coney Island. She ventured north to Papa Westray in the Orkney Islands, and later to the mountains of western Norway. With the sea and horizon in view, compelled by the omnipresence of myths and illusions, she journeyed from one island and one reality to the next.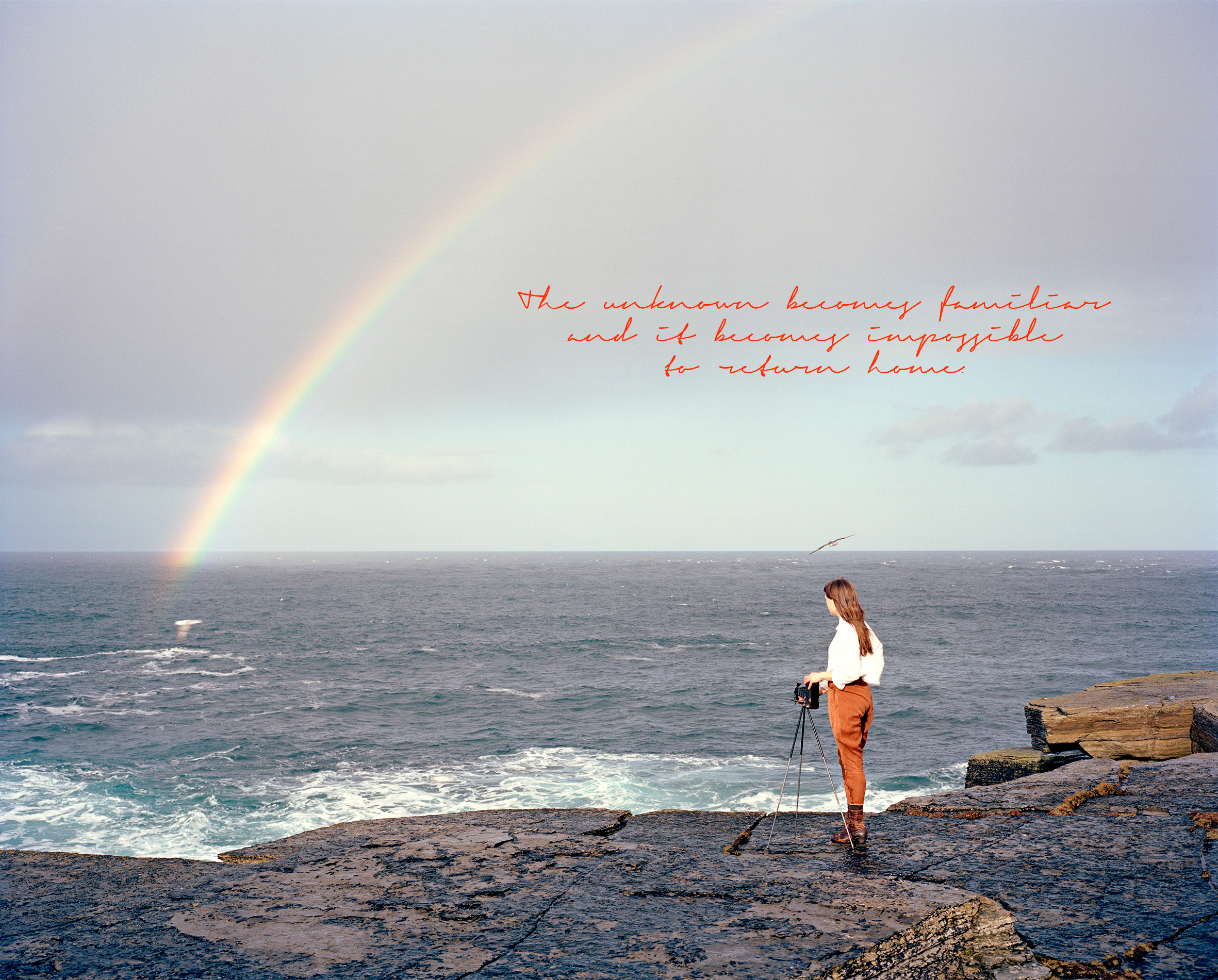 Character # IV Anna Aurora Astrup (1871-1968) Among Virgin Mountains
Anna Aurora Astrup sails along the East Coast of Greenland in 1900. Astrup charts sea depth, mountain peaks and coastline. She makes first ascents of Mount Aurora and Astrups Horn. The coastline just south of Scoresbysund is one of the World's least explored. Anna decided to publish the journal in her own name. Every publisher that read the manuscript rejected it. The manuscript was forgotten and incomplete for many decades.
Character # V Bertha Bolette Boyd (1900-1985) The Bhutan Trilogy
Bertha Bolette Boyd mountaineer and author, travels to Bhutan in the 1930s. Bhutan is landlocked, impenetrable and isolated. Monasteries cling to buttresses. At an elevation of 7578 metres, Bhutan's Gangkar Punsum is the highest unclimbed mountain on Earth. The mountain is sacred. Culture has a place in nature. Landscape is balanced by the humbleness of Buddhism. Bertha climbs to monasteries, and further to mountain passes at 4900 m above sea level. Bhutan is the country where colonialism completely failed; therein lies the foundation for other stories.